Gold Crew Fx is a water additive (WA) that is excellent at suppressing VOC vapor. The fuel is stabilized as micro-particles in a water bearing mixture resulting in stable, long term vapor suppression. Gold Crew Fx does not just blanket the problem but encapsulates it. The Gold Crew Products are designed to addresses problems as a whole. The Gold Crew Fx was intended to treat the petroleum pollutant in an environmentally superior application. The mirosolubilization of the petroleum into the water bearing solution accelerates the permanent removal of the hydrocarbon.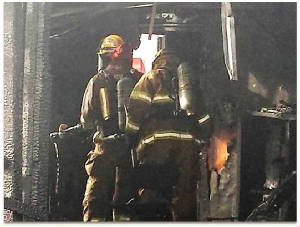 Gold Crew Fx
is effective on tires, Class A fires, commbustibles and flammables.
Gold Crew FX increases over all safety and health benefits during overhaul and fire investigations giving long term suppression of the offgassing VOC's.